Broad bean, asparagus, mint & feta salad
BST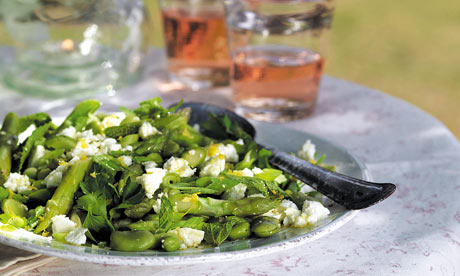 Broad bean, asparagus, mint & feta salad.
400g broad beans, podded
300g feta cheese
1 bunch of mint
2 spring onions, thinly sliced
16 spears of asparagus
1 small bunch of flat parsley
zest of 1 lemon
olive oil, salt & pepper
Bring pan of salted water to boil, add asparagus for two minutes. Remove and cool in ice water. When cool enough to handle, slice spears into bitesize pieces. Blanch broad beans in salted boiling water for two minutes. Remove and throw into bowl with splash of olive oil and lemon zest. Allow to steep in oil as beans cool, then season and add chunks of feta. Tear up mint and parsley, add spring onion and asparagus. Serve.
پرشین بلاگ
Persianblog