Chicken Salad
BST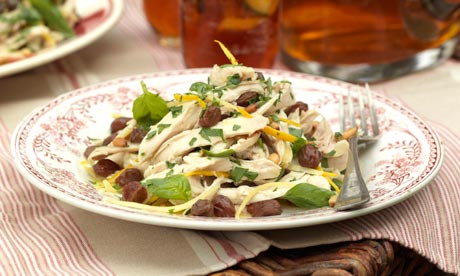 Chicken Salad.
1 spring chicken
250g Country Life butter
250ml red wine vinegar
2 tbsp caster sugar
1 cinnamon stick
1 carrot, peeled and roughly chopped
3 sticks of celery, roughly chopped
1 onion, peeled and roughly chopped
3 sprigs of thyme
1 tsp black peppercorns
2 bay leaves
150g raisins, soaked in water to plump up
zest of 1 orange
zest of 1 lemon
250g pine nuts, toasted
1 bunch of flat leaf parsley,
roughly chopped
1 bunch of basil, torn
Place whole chicken in a large casserole pot and add butter, red wine vinegar, caster sugar, cinnamon stick, carrot, celery, onion, thyme, peppercorns and bay leaves. Bring to the boil, reduce the heat and simmer for 1 hour. Remove from heat. Once cool, cut chicken into strips and place in a large glass bowl. Add raisins, orange and lemon zest and pine nuts. Just before serving add herbs and 2 tbsp of stock from the pan, season with salt and pepper. Serve.
پرشین بلاگ
Persianblog