Strawberry & raspberry cream cheese tart
BST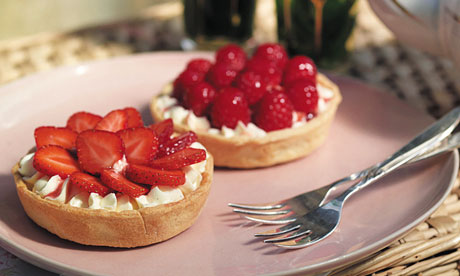 Strawberry & raspberry cream cheese tart.
Makes 6 mini tarts
280g plain flour
230g Country Life butter
2 egg yolks
115g icing sugar
1 large punnet of ripe strawberries, thickly sliced
2 punnets of raspberries
3-4 tbsp strawberry jam
a splash of orange liqueur
300g cream cheese
75 ml double cream
zest of 1 lemon
a drop of vanilla extract
1 vanilla pod, seeds scraped out
75g caster sugar
Preheat oven to 180C/350F/gas mark 4. Make pastry by blending flour, butter, egg yolks and icing sugar in a food processor. Once brought together, clingfilm and cool in fridge for 20 minutes. Line six mini tart tins with pastry and place in fridge for 20 minutes to set. Line with baking paper and baking beans and cook for 10-15 minutes, then remove paper and baking beans and cook for five minutes until golden. Remove from oven and set aside to cool. Beat cream cheese, vanilla, lemon zest and sugar together in a bowl. Add double cream and whisk until thickened and fully incorporated. Spread or pipe over base of pastry shell. Scatter over the raspberries and strawberries, removing green stems first. Heat strawberry jam gently with a splash of the orange liqueur, strain and brush over top of tart to glaze. Serve.
پرشین بلاگ
Persianblog