Espresso cake
 BST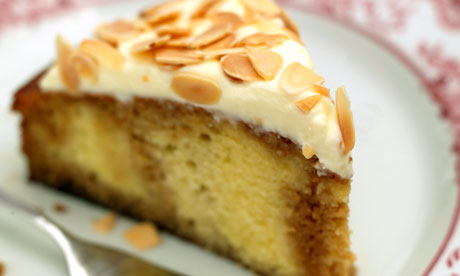 Espresso cake.
240g caster sugar
240g unsalted Country Life butter
4 medium free-range eggs
250g plain flour
1 tsp baking powder
600ml of very strong coffee
150g caster sugar
60ml of amaretto
250g mascarpone
100ml creme fraiche
1-2 tbsp icing sugar
40g toasted flaked almonds
Preheat oven to 160C/350F/gas mark 3. Grease and line a 22cm cake tin. Place sugar and butter in a large glass bowl and cream using a hand whisk. Add eggs slowly, while gradually adding flour and baking powder to prevent the mix from splitting. Pour into a cake tin and cook for 40-50 minutes. Place a metal skewer through centre of cake, if it comes out clean the cake is ready. Place warm coffee in a measuring jug and add sugar, stir until melted. When cake has cooled, prick all over with skewer and sprinkle over the amaretto and coffee until the cake is almost saturated. Leave cake in tin until all of the liquid has been absorbed. In a glass bowl mix mascarpone with creme fraiche and icing sugar to taste. Spread over top of cake and scatter over toasted almonds. Serve.
پرشین بلاگ
Persianblog