Lamb cutlets and baby new potatoes in rosemary butter
BST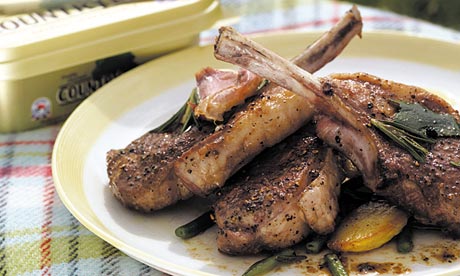 Lamb cutlets and baby new potatoes in rosemary butter.
20 small lamb cutlets
6 cloves of garlic
2-3 small sprigs of rosemary, stalks removed and leaves chopped finely
150g unsalted Country Life butter
400g baby new potatoes
olive oil
250g green beans
Boil potatoes until just cooked. When cooled, cut into halves. Mix butter with chopped rosemary and season with sea salt and black pepper. Put in large frying pan and heat well. Season cutlets, rub in a little oil and sear in pan for no more than 2 minutes each side. Add 1 tbsp of rosemary butter. Turn off heat and glaze chops for a few minutes. Remove and leave to rest. Meanwhile, boil green beans. In another pan, heat some olive oil and saute potatoes with garlic. Add some rosemary butter to finish. Serve lamb with potatoes and beans.
پرشین بلاگ
Persianblog