Chocolate & spiced banana muffins
BST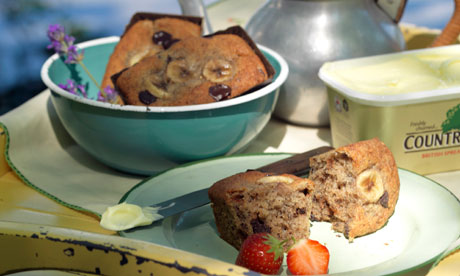 Chocolate & spiced banana muffins.
Chocolate & spiced banana muffins
Makes 10 mini loaves
125g Country Life butter, softened
125g caster sugar
2 eggs, beaten
3 bananas, mashed
1 whole banana
1 tsp mixed spice
150g plain flour
50g ground almonds
1 tsp baking powder
1 tsp bicarbonate of soda
2 tbsp milk
100g dark chocolate chips
2 extra tbsp caster sugar
Preheat oven to 180C/350F/gas mark 4. Using electric whisk, cream butter and sugar together, gradually add eggs until incorporated. Add spices, flour, almonds, milk, baking powder and bicarbonate of soda. Blend well until combined. Stir in mashed bananas and chocolate chips, spoon into small greased muffin tins. Slice remaining banana thinly over top of each muffin, sprinkle with sugar. Bake for 15-20 minutes.
پرشین بلاگ
Persianblog